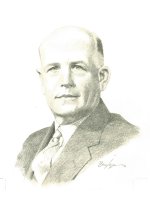 J. Stanley Knapp
(1892 - 1967)
Inducted in 2006
Origin: Waterloo Region
Nominated by: 4-H Ontario
Specialty: Livestock - Dairy, Organizations
---
J. Stanley Knapp is considered to be the 'father of 4-H Ontario', having started the first Boys & Girls Club, Waterloo County, in 1915. This organization was the forerunner of 4-H in Ontario. The resulting success of this program, now in its 91st year, cannot be overestimated. Hundreds of thousands of youths have taken part in this leadership and skill development program across Ontario since its early beginnings.
Following graduation from the Ontario Agricultural College with a Bachelor of Science degree, Stan Knapp became the second Agricultural Representative in Waterloo County and served from 1914 to 1924. During this time he organized and taught the first one-month short course in Elmira, in 1915. These short courses gave rise to of the Waterloo County Junior Farmers' Association and subsequently the Junior Farmers' Association of Ontario. He also taught three-month short courses to young farmers in the 1930's. These practical courses for young men and women were organized for those unable to further their education elsewhere. During his tenure as Agriculture Representative, he also increased the number of school fairs from two to seven.
Throughout his lifetime he farmed in the Galt area, where he developed one of Ontario's top Ayrshire herds. In an effort to promote and maintain a very high standard in the Ayrshire breed, he sold livestock at a nominal cost to enthusiastic breeders, subsequently sharing with them his knowledge of pedigrees, tattooing and record keeping. Stan had a keen and deep interest in good livestock breeding and genetics, and organized the first meeting on March 23, 1915, leading to the establishment of the Holstein-Friesian Association in Waterloo County. At about the same time, he was instrumental in organizing the County Shorthorn Breeder's Association. Stan was the first producer of fluid milk to the Galt Dairy in 1918 and carried on in the dairy business until 1960.
As a result of producing fluid milk for human consumption, Stanley realized the health risks associated with the presence of tuberculosis in dairy cattle. He was one of the first to voluntarily test for TB, leading to the beginning of the TB Free Herd status in Ontario. During his agricultural/farming career, Stan overcame three major setbacks to his family and operation. In 1924 TB claimed his entire herd, and then in 1937 a house fire destroyed the family's home and possessions. Positive Bangs Disease tests saw the herd reduced again in 1940. In each case, the family overcame these hardships and rebuilt their farming operation. Friends would say of him…"When the going gets tough, Stan Knapp gets going". Stan organized the first Junior Farmers' Livestock Judging Competition in Ontario. Through his efforts, Waterloo County sent its first participant to the Junior Livestock Judging Competition in Chicago. Traveling across Ontario, he was an early judge for the three provincial annual Farm & Home Improvement Competitions sponsored by The Farmers Magazine, during the 1930's. These competitions encouraged farmers to positively upgrade the appearance of their farmsteads, something that is encouraged and continues to this day.
Stan Knapp served as a School Trustee (North Dumfries Section 25 Dickie Settlement), an Elder at Wesley United Church, Councilor / Reeve of North Dumfries Township and Warden of Waterloo County. He was also involved with the South Waterloo Agricultural Society, the Central Dumfries Farmers' Club, North Dumfries Plowmen's Association, Galt Milk Producers, the Ontario Ayrshire Breeders Association and the Accredited (Dixon) Dairies Limited. Stan Knapp was inducted into the Waterloo County Hall of Fame in 1992. In all that he did and was involved in, it is well known and documented that Stan Knapp's working philosophy was 'not what I can do as an Agricultural Representative, but what I can teach."