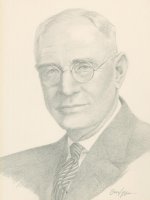 James Eugene Johnson
(1868 - 1944)
Inducted in 1989
Origin: Norfolk County
Nominated by: Norfolk Fruit Growers Association
Specialty: Co-operatives, Crops - Fruit, Organizations
---
Born in Norfolk County and of United Empire Loyalist descent, James E. Johnson provided an important influence on the production and marketing of apples and other fruit throughout Ontario.
Early in life Mr. Johnson conceived a vision of Norfolk County as a fruit growing district for both tree fruits and small fruits. Through his organizing ability, James Johnson was instrumental in the formation of the Norfolk Fruit Growers' Association and for more than a quarter of a century he served as its first manager. Largely due to his foresight and persistent efforts, the Association has become the largest apple producer organization in Eastern Canada.
The greater part of Mr. Johnson's business life was spent in co-operative work. While managing the Norfolk Fruit Growers' Association, he also organized and managed the Norfolk Co-operative Company Limited and the Norfolk Berry Growers' Association. Widely known throughout the province, his services were frequently in demand to assist other grower organizations. He served as President of the Ontario Fruit Growers' Association in 1910 and again in 1918. He was Provisional Chairman for the first council meeting when the Canadian Horticultural Council was formed in 1922.
In 1942, James Johnson was honoured with the Silver Apple Award presented by the Norfolk Fruit Growers' Association.