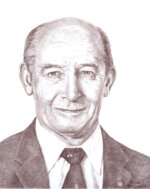 James G. Rickard
Year of birth: 1943
Inducted in 2022
Origin: Durham County
Nominated by: Ontario Broiler Hatching Egg and Chick Commission (OBHECC)
Specialty: Government, Horticulture, Livestock - Poultry
---
Jim Rickard is a successful businessman, having owned and operated Ceresmore Farms Ltd. in Bowmanville with his brother Don since 1966. Theirs is a very diversified business operating on 1,300 acres producing apples, edible beans, soybeans, small grains, seed production for wheat, processing vegetables, grain corn, beef, and hogs.
Jim is also a trained facilitator and arbitrator and continues to provide professional consultation for dispute resolution for individual farms and grower associations. Indeed, an important legacy for agriculture has been Jim's ability to assist components of the agricultural industry to find solutions to issues by developing relationships between stakeholders, suppliers, buyers, sellers, boards, associations, processors, and manufacturers. He is known for his integrity and fairness and his ability to foster unity among diverse interests.
He brought these skills to several industry boards including as member and chair of Ontario Apple Growers Marketing Board (2001-07); and as member and vice chair of the Ontario Fruit and Vegetable Growers' Association (2003-05). He was the chair of the Farm Products Appeal Tribunal (1992-2001) where he provided fair and impartial hearings all while working to amalgamate several other Appeal Boards so that agricultural appeals could be more efficiently adjudicated by one entity. This was finalized in 1999 with the formation of the Agricultural, Food and Rural Affairs Appeal Tribunal.
Jim also served as chair of the OBHECC board (2002-14), one of the few agricultural boards in the province with an independent chair. The board regulates three different sectors, hatcheries, hatching egg producers and breeder growers who supply the replacement flocks. Jim drew on his skills to build on their common interests and to resolve any conflicting needs. The OBHECC board became acknowledged as a model by both the industry and its regulators.
James Rickard's impressive background of business and professional accomplishments have well served many agricultural organizations around Ontario over the past four decades. He is respected as a person of integrity, and he often supported decisions contrary to his personal best interests as a grower and producer. Because of his efforts, Ontario has set the standard of service of adjudication for various agricultural players, ensuring that Ontario agriculture operates on principles of justice and fairness. He helped to resolve many conflicting points of view to enable the agricultural industry in Ontario to move forward efficiently and profitably.
James Rickard is a most welcome inductee into the Ontario Agricultural Hall of Fame.