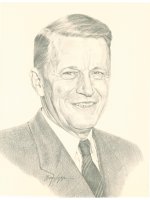 James Garner
(1898 - 1958)
Inducted in 1980
Origin: Grey County
Nominated by: Ontario Agricultural Extension Branch Association
Specialty: Crops, Crops - Grain
---
A native of Grey County, James Garner graduated from the Ontario Agricultural College in 1923 and entered the Extension Branch of the Ontario Department of Agriculture serving in Victoria, Grey and Rainy River before going to Kent County in 1929. There his interest in marketing initiated a number of commodity marketing associations. He fostered increased soybean production and he was instrumental in the introduction of hybrid seed corn in 1938. During World War II, he organized the first prisoner of war farm camps in Kent.
In 1946 he became Director of Extension for the Department and in 1956 he was named Chief Agricultural Officer.
Mr. Garner's career is a shining example of selflessness dedication. His imaginative ideas brought many changes to the Ontario extension service.