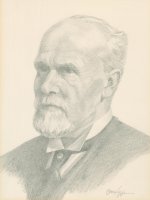 James Mills
(1840 - 1924)
Inducted in 1988
Origin:
Nominated by: Ontario Agricultural College Alumni Association
Specialty: Education
---
The name of James Mills will always be associated with agricultural education in Ontario.
After graduating from Victoria University in Cobourg, Ontario, he taught school in Quebec and Ontario before becoming Principal of the Ontario School of Agriculture in 1879 and the President, Ontario Agricultural College 1880– 1904. During his term at the Ontario Agricultural College it became one of the most significant institutions for higher education in Canada. Under his leadership the Farmers' Institute of Ontario was established, marking the beginning of agricultural extension programs in Ontario.
Dr. Mills guided the College through a tremendous expansion of programs and facilities. When he arrived at Guelph, the School of Agriculture offered a two-year Diploma Course. By May 1901, the University of Toronto conferred a B.S.A. degree on the first person to graduate from the new four-year course for degree students. Through Dr. Mills' initiative, an impressive list of new facilities was added to the campus including, the Chemistry Building, Dairy Building, Massey Hall and Library, and Macdonald Institute.
After leaving Guelph, Dr. Mills accepted a position on the Railway Commission of the Dominion of Canada. Victoria University awarded him an honourary LL.D. in 1892.