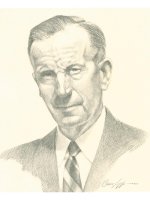 James R. Henderson
(1896 - 1968)
Inducted in 1983
Origin: Frontenac County
Nominated by: Frontenac County Holstein Association
Specialty: Livestock - Dairy
---
In 1911, James R. Henderson, with his father, was co-founder of the Strathaven herd of Holstein-Friesian cattle at Kingston, Ontario. This herd has had an enormous effect in the improvement of dairy cattle, particularly in Eastern Ontario.
A member of the Holstein-Friesian Association of Canada for half a century, Mr. Henderson was a director for 15 years and the president in 1942, as well as serving on many committees. In his local Frontenac County Association, he was a director for 35 years and the secretary-treasurer for eight years.
He organized the first Championship Show in Eastern Ontario and was host for the first Twilight Meeting of the breed in Ontario.
James Henderson was awarded the Master Breeder Award by the National Association in 1941 and the Certificate of Superior Accomplishment in 1965. He was the first person to receive the McNish Award given to the person making the greatest contribution to agriculture in the 14 counties of Eastern Ontario.
In the local community he was extremely active serving as director of the agricultural society for 40 years; first president of the local plowmen's association and president of the International Plowing Match in 1939. He was the first president of the Frontenac County Federation of Agriculture and organizer and member of the local soil and crop improvement association for 25 years.