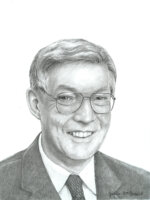 James "Ray" Robertson
Year of birth: 1943
Inducted in 2023
Origin: Grey County
Nominated by: Ontario Soil and Crop Improvement Association
Specialty: Crops - Forages
---
Early in his career, Ray Robertson was interested in the role of forage crops to promote soil health and environmental conservation. He recognized that forages were an undervalued commodity and so he applied his innovative thinking and marketing skills to transform "simply hay" into a profitable and exportable commodity. As a viable crop, forages can now be harvested and marketed at a scale which attracts cash croppers to include them in their crop rotations. Another huge benefit is that forages and grasslands have become an important part of the solution for environmental and sustainability concerns.
Ray Robertson knew that a national forage organization would be needed in order to obtain research dollars and to find stable markets. He became a founding member of the Canadian Forage and Grasslands Association and served as its Chair from 2015-19. He secured financial support for grower seminars on production and equipment. He instituted hay market discovery missions to identify national and international demands for quality Canadian hay. These efforts opened up many new markets in places as far afield as China, UAE and Saudi Arabia. Then in 2000, Ray became the General Manager of the struggling Ontario Forage Council (OFC) where he grew the membership and profile of the organization. The OFC initiated the Ontario Hay Listing Service on its website to bring buyers and sellers together, and the Ontario Hay Marketing Forum was developed as OFC's marketing arm. In 2015, under Ray's leadership and networking connections, the Ontario Hay and Forage Cooperative (OHFC) was incorporated. This led to the development and acquisition of commercial scale harvesting equipment, big bale hay dryers and compacters which allowed the members of the OHFC to produce the necessary hay supplies to ensure a reliable overseas supply chain.
When local Ontario Ministry of Agriculture and Food offices closed in 2000, Ray envisioned a Grey County Agricultural Services Centre to provide fee-for-service extension programs and a communications hub for producers locally and provincially. This allowed the Ontario Forage Council to develop virtual educational programming that attracts viewers across Canada.
He also worked with the Ontario Soil and Crop Improvement Association to encourage the adoption of the Environmental Farm Plan and to secure the funding to enhance conservation work on bioengineering and other stream bank stabilization techniques.
Ray is highly regarded as a true ambassador for environmentally sustainable agriculture and, in 2008, received the T.R. Hilliard Distinguished Agricultural Extension Award in recognition of his outstanding extension work in Ontario.
Ray Robertson is an important addition to the Ontario Agricultural Hall of Fame.