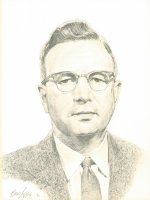 James Ross Cavers
(1906 - 1992)
Inducted in 1996
Origin: Hamilton-Wentworth Region
Nominated by: Class of 1953 Ontario Agricultural College
Specialty: Livestock - Poultry
---
James Ross Cavers was hailed by his peers as "an honest broker" who provided mediation and leadership to the poultry industry. Born and raised near Millgrove, Ontario, Ross Cavers graduated from the Ontario Agricultural College, Guelph, in 1929 and the University of Minnesota (M.Sc., 1932). His teaching career began and ended at the Ontario Agricultural College where he eventually became head of the Poultry Science Department, a position he held for twenty years (1948-1968).
Under his inspired leadership the department expanded and grew, eventually offering one of the foremost poultry science research programs in North America. While at the university he also provided personal and academic leadership through counseling and guidance to generations of undergraduate and graduate students. His passion for athletics, particularly football, was recognized by an appointment as a "builder" to the Gryphon Club Hall of Fame in 1984.
For the poultry industry, Cavers served as Director, Vice-President and President of the Poultry Science Association. He was also a council member of the World's Poultry Science Association and the Agricultural Institute of Canada. His greatest contribution is thought by many to be his close work with the poultry industry in Ontario and Canada. During a period of great change and growth, Cavers mediated conflicts between different segments of the industry. Respected by all of the parties involved, he provided outstanding leadership and sound counsel to the many poultry associations that existed during this period.
Following his retirement from the University of Guelph, Ross continued to work with the industry until 1972 as editor of the Poultry Review, a publication to which he had frequently contributed during his career.