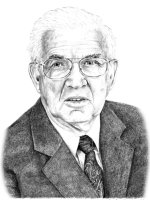 Joe Hudson
Year of birth: 1929
Inducted in 2012
Origin: Leeds & Grenville United Counties
Nominated by: Egg Farmers of Ontario
Specialty: Agri-business, Livestock - Poultry
---
Joe Hudson is the President of Burnbrae Farms which has grown into Canada's largest integrated producer and marketer of eggs and egg products. Since the company began from humble beginnings more than fifty years ago, it has achieved many amazing milestones and is a thriving participant in Canadian agribusiness, selling eggs and egg products to major grocery chains, food service operations and large bakery customers throughout Canada and the U.S. It is a true Ontario and Canadian agribusiness success story and Burnbrae continues to be privately owned and operated by the Hudson family.
In 1952, Burnbrae's first laying barn is built in Lyn, Ontario and four years later lands its first large grocery store chain account, Steinberg's in Montreal. By 1973, Burnbrae enters the further processing market, establishing a plant in Lyn to break, pasteurize and package eggs for the bakery, hotel, restaurant and industrial trade. The company continues to grow and buy other egg related businesses and by 1992 the laying barns in Lyn are connected by an in-line system featuring a conveyor belt carrying eggs from the barns to the grading station. By 1995, the company is a leading supplier in the food service industry, providing a superior extended shelf life product used by fast food giant, McDonalds in its breakfast menu. In 1996, Burnbrae Farms launches Naturegg Omega 3 eggs after working for years with the University of Guelph. That same year, Burnbrae expands west and now conducts egg business in every province, and is the only company to achieve vertical integration nation-wide.
Burnbrae Farms continues to develop creative value-added egg products such as its Break Free line of cholesterol reduced liquid egg products; cooked egg products including skillet omelets and hard boiled eggs; and Naturegg Omega Pro shell eggs with omega 3 and lutein.
Joe Hudson and Burnbrae Farms have been showered with a multitude of impressive awards for marketing excellence, innovative product development, egg processing accomplishments, healthy innovations and in 2007, Mr. Hudson was the recipient of the "We Care Hall of Fame Award", the most prestigious award in the Canadian Food Service Industry.
Clearly, Burnbrae Farms has been a major influence in the Canadian egg industry, and Joe has been instrumental in helping to plan and guide its direction. He served for 31 years as a Director of the Ontario Egg Producers and he and his family and employees are active in virtually all the significant industry organizations. He has consistently supported egg-related research at the University of Guelph and Mr. Hudson serves as the Chair of the Hudson-Burnbrae Foundation, established in the early 1970's to provide financial support to education and other charitable causes in Eastern Ontario.
Joe Hudson and his family have developed a truly remarkable Ontario-Canadian agribusiness, and he is rightfully recognized by the Ontario Agricultural Hall of Fame for his leadership, vision and contribution to agriculture.