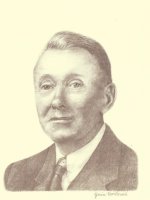 John Albert (Bert) Hughes
(1879 - 1949)
Inducted in 2009
Origin: Middlesex County
Nominated by: Middlesex Federation of Agriculture
Specialty: Livestock - Dairy, Politics
---
Bert Hughes was a respected dairy farmer who was recognized for his dedication to milk marketing and milk quality both locally and provincially. He was instrumental in the formation of the Ontario Whole Milk Producers Association, becoming a Charter Member in 1932 and its President from 1939-44. The Association was concerned with Ontario price negotiations, quality assurance, the development of uniform milk transportation costs and a system of year-round quotas. Pasteurization was introduced for all whole milk sales. Testing for TB in dairy cattle was initiated, and a brucellosis eradication program was established.
From 1946-49, Mr. Hughes was the first President of the Ontario Milk Foundation Ltd. which was composed of both milk producers and distributors, and promoted the benefits of milk consumption through consumer education. Bert Hughes was also the first President of the Middlesex Chamber of Agriculture in 1938. These regional chambers across became Federations of Agriculture Middlesex was one of the first federations to organize farmers outside of the greater Toronto area.
He was a long-time member of the Board of Directors of the Western Counties Telephone which became a strong bargaining group for long distance toll route negotiations with Bell Telephone in order to ensure an affordable telephone system for rural customers.
Certainly the vision shown by Bert Hughes has positively impacted both the Ontario dairy industry as well as the opportunities for farmers to organize on behalf of the Ontario agriculture industry.