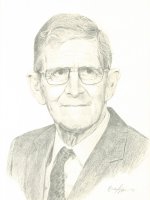 John Alden McLean
(1912 - 1992)
Inducted in 1993
Origin: Kent County
Nominated by: Orford Farmers' Co-op Limited, Southwestern Branch of the Ontario Institute of Agrologists and the United Co-operatives of Ontario
Specialty: Co-operatives
---
Alden McLean was born and raised on the family farm near Muirkirk in Kent County. Throughout his sixty-five years of active involvement with numerous farm organizations, he demonstrated a deep belief that co-operation and organization were key to a healthy agricultural industry and the betterment of rural life in Ontario. His leadership surfaced initially as President of the Ontario United Farm Young People.
Mr. McLean served on the Board of Directors of United Cooperatives of Ontario from 1949-1961 and as President from 1958-1960. During this time the Co-operative experienced dramatic growth, expanded its services to farmers, and exercised its social responsibility. Highlights included: creation of the grain marketing department in Chatham; construction of the Guelph Feed plant; becoming a member of Co-op Research Farms; establishment of United Dairy and Poultry Co-op Ltd., today known as Gay Lea Foods; and construction of fertilizer plants at Tillsonburg and Stratford.
Alden McLean's commitment to the organized marketing of agricultural commodities is evidenced in his directorship in the Ontario Farm Products' Marketing Board and the Bean Producers' Marketing Board, as an executive member of the Ontario Federation of Agriculture and as a strong supporter of the southwestern Ontario Pork Producers' Conferences.
Believing that the strength of the rural community is based on participation and leadership in its local organizations and beyond, Mr. McLean was the recipient of numerous awards including Outstanding Pork Producer Award at the Ontario Pork Congress, Honourary Life Member in the Kent County Agricultural Hall of Fame and an OAC Centennial Medal in 1974.