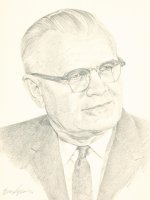 John Anderson Dalrymple
(1910 - 1989)
Inducted in 1992
Origin: Niagara Region
Nominated by: Class of 1956 Kemptville College of Agricultural Technology
Specialty: Education
---
John Dalrymple's 35-year career of outstanding service to Ontario's agriculture and food industry began in 1935 with his graduation from Ontario Agricultural College, Guelph, with a Bachelor of Animal Science degree. After teaching "short courses" from his home farm in Smithville, Ontario, he became Assistant Agricultural Representative for Manitoulin, and later Prince Edward County. From 1940 to 1944 he was the Agricultural Representative for Glengarry County.
Dalrymple moved on to Kemptville College of Agricultural Technology in 1944 where as Farm Manager and Head of the Animal and Field Husbandry Division he developed the school's dairy herd to national significance. In 1966, he became Assistant Principal of the College, a position he held for five years. During his years at the College, through his example, his coaching and his dedication, John Dalrymple became a model for farm youth and agricultural students. From 1971 until his retirement in 1973, Mr. Dalrymple was the Director of Interbranch Affairs for the Ontario Department of Agriculture and Food.
In his community, John Dalrymple was active in his church and was a member of and held office in many social and agricultural organizations. He was honoured as a Life Member of the Canadian Society of Animal Science, received the Award of Merit from the Eastern Soil and Crop Improvement Association and won a Centennial Medal in 1967 for recognition of valuable service to the nation. In 1986, Dalrymple was further recognized for his outstanding contribution to Ontario agriculture by being named Distinguished Agrologist by the Ontario Institute of Agrologists.
John Dalrymple gained a great amount of respect from family, friends, students and colleagues.