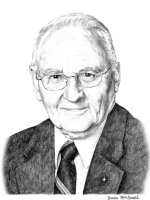 John Hamilton Newman
(1936 - 2018)
Inducted in 2012
Origin: Ottawa-Carleton Region
Nominated by: Ottawa Cattlemen's Association
Specialty: Livestock - Beef, Organizations
---
John Newman made a major mark on the Ontario and Canadian beef industry over the course of several decades. He began this odyssey with the purchase of Jo-mar Farms with his wife Marion in 1966. The farm began finishing beef and later became a cow-calf operation, with the Newmans becoming recognized for excellent pasture management, record keeping and the hybrid vigour of their herd. Both Kemptville College and the University of Guelph used the farm as a teaching tool for students, and it was recognized with Master Feed awards for top stocker quality and an OSCIA certificate for soil management and crop production.
Even while developing his farm business, John Newman also used his management and communication skills on behalf of the larger beef industry. He served twelve years on the Ontario Cattlemen's Association Board, and was integral to the process of restructuring the organization and implementing its new strategic plan designed to make the OCA a driver for excellence, sustainability and profitability in the beef industry in Ontario. In 2003 the BSE crisis hit the Canadian beef industry, and John Newman became a key spokesperson for Ontario beef. He became the Chair of the Beef Information Centre at this crucial time, and his leadership over the next four years in beef promotion and marketing helped to maintain Canadian consumer confidence in beef. In fact, Canada was the only country in the world which actually increased beef consumption during the BSE period.
Known and respected for his ability to be an effective spokesperson on behalf of beef producers across Ontario and Canada, John continued in a leadership role in a variety of ways. In 2000, he became a founding director of the Canadian Cattle Identification Agency responsible for developing a cattle identification program. John was firm in addressing the resistance of some producers to ear tag identification, and he spoke to groups across the country so that they would understand the importance of identification to animal health and market access.
He also joined the board of the Beef Information Centre , becoming Chair in 2005, and the same year began as an executive member of the Canadian Cattlemen's Association, becoming a lead spokesperson for the Canadian Beef Industry. In 2009, John Newman was appointed by the CCA to the Canada Beef Working Group to examine the feasibility of consolidating the three beef marketing and promotion organizations. In 2011, this work resulted in the amalgamation of the Beef Information Centre, the Canadian Beef Export Federation and the National Checkoff Agency, now known as Canada Beef Inc., responsible for national beef marketing, promotion and research.
These and other initiatives undertaken by John Newman on behalf of Ontario's and Canada's beef industry, point to a man whose strong leadership has been instrumental in developing a highly productive and sustainable beef sector, marketing an excellent product to both Canadian and international consumers. John Newman is an outstanding inductee into the Ontario Agricultural Hall of Fame in 2012.