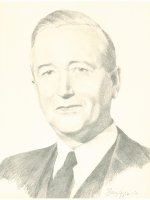 John J.E. McCague
(1899 - 1959)
Inducted in 1990
Origin: Dufferin County
Nominated by: Holstein Association-Ontario Branch
Specialty: Livestock - Dairy
---
In 1928, Jack McCague terminated a successful career as an Agricultural Representative to become manager of Stevenson Farms, Alliston, and proceeded to develop outstanding herds of Holsteins, Shorthorns, Yorkshires and Silver fox. Five years later he purchased the property, changed the name to Glenafton Farms and, during the next 25 years, developed one of the most famous Holstein herds in North America. Animals produced on Glenafton Farms were sold to all parts of the world, and Jack McCague was named a Master Breeder.
Mr. McCague held many public offices including Chairman, Canadian National Livestock Records; President, Canadian Swine Breeders' Association, President, Holstein-Friesian Association of Canada and President, Dairy Farmers of Canada. He served as Director, Canadian National Exhibition and was the first farmer to become a Director of a chartered bank when the Toronto-Dominion Bank named him to that position. Characteristically, he played a prominent role in formulating the policies of all organizations with which he was associated.
Jack McCague was active in many local community organizations. He was previously named to the Canadian Agricultural Hall of Fame.