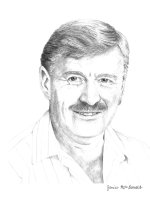 John (Jack) Thomas James
(1949 - 2007)
Inducted in 2013
Origin: Prescott & Russell United Counties
Nominated by: Ontario Sheep Marketing Agency
Specialty: Livestock - Sheep, Organizations
---
Jack James first established his credentials in the sheep industry as a producer. He owned the longest established Polled Dorset flock in Canada. He won Premier Dorset Flock and had many champion sheep at the Royal Agricultural Winter Fair. He was one of the first sheep producers to establish a large commercial operation based on a three-way terminal cross using accelerated lambing technology, artificial insemination and a novel European breed noted for multiple lambing. In the 1980's, he worked with a veterinarian and a mineral company to develop sheep and lamb minerals to improve nutrition and eliminate selenium deficiency. These were marketed commercially for 25 years. In the late 1990's, Jack was one of the first producers in Ontario to use embryo transplants in order to establish two breeding lines of Polled Dorsets with strong out-of-season breeding and maternal traits. Jack developed a lamb wholesale business selling to embassies, ethnic and high-end butcher shops before the concept of "value-added" was in vogue. He also marketed his Jameshaven breeding stock across Canada and the USA, and today this flock is carried on by his daughters Shanna and Jenna.
As if those credentials were not enough, Jack went on to put his talent to work to develop a strong and competitive sheep industry across Ontario and the rest of Canada. In 1984, he chaired an Ontario Commission to develop a marketing plan for sheep and lamb in the province, which ultimately led to the formation of the Ontario Sheep Marketing Agency with Jack James as its founding Chair. In 1986, he initiated the first bimonthly sheep commodity magazine in Ontario called the Ontario Sheep News which still exists today. He also worked with OMAFRA to establish and promote an on-farm flock Record of Performance testing program and two ram testing stations in Ontario.
Jack worked on the Arcott Producer Advisory Committee for Agriculture and Agrifood Canada to select foundation flocks from the three Arcott breeds to be released to the public in 1989-90. The Rideau Arcott has especially made a significant contribution to improving the productivity of the Canadian sheep industry. Then, using his own commercial flock as one of three experimental flocks in Ontario, he worked with government breeders and United Breeders (EastGen) to develop estrus synch and AI (artificial insemination) in sheep.
Jack James was very involved in establishing the first World Sheep and Wool Congress to bring together producers, technical experts, scientists and industry representatives for a week-long event. This Congress continues to be held and hosted in many countries around the world.
He also represented Ontario on the Canadian Sheep Breeders' Association (CSBA) from 1979-1987 and in 1981 was a member of the CSBA committee which organized the first national purebred sheep show and sale now known as the All Canada Sheep Classic. The Classic has become a well-known and trusted source of outstanding Canadian breeding stock.
Recognizing that an effective marketing outlet was needed for the growing number of sheep producers in Eastern Ontario, Jack worked closely with a major auction facility to encourage wholesale buyers to purchase lamb at a central auction, and as a result, annual special Christmas and Easter lamb sales were established, improving prices and profits for producers.
Jack James was a respected sheep judge across Ontario and Quebec and he readily shared his knowledge of sheep production through the development of evening short courses for new producers. He was a capable and visionary leader in the sheep industry, impacting sheep genetics, nutrition, organization and marketing, provincially, nationally and internationally.
The Ontario Agricultural Hall of Fame welcomes this important recognition of John (Jack) Thomas James.