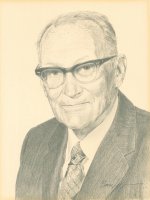 Johnston M. Fraser
(1905 - 1979)
Inducted in 1981
Origin: Halton County
Nominated by: Canadian National Exhibition Association
Specialty: Livestock - Dairy, Organizations
---
"Jack" Fraser was a master breeder of Holstein-Friesian cattle. Founded in 1928, his Spring Farm herd at Streetsville had a world-wide reputation for quality that had a profound influence on the breed. He exhibited Holsteins for half a century, winning more Premier Breeder and Premier Exhibitor awards at the Canadian National Exhibition than did any other breeder.
He also made a great contribution as a judge of dairy cattle. He served in this capacity throughout North America and around the world. The Spring Farm herd has been used for over 30 years for the training of dairy cattle judging teams and for the teaching of agricultural students in general.
Jack Fraser's first public office was president of the Peel Junior Farmer's Association in 1928 and he went on to become President of the Canadian Holstein-Friesian Association in 1948; President of the Canadian National Exhibition in 1964 – 1965; and a director of the Royal Agricultural Winter Fair for many years. In 1974, he was awarded an OAC Centennial Medal. Mr. Fraser had an active community life serving on school and hospital boards and as president of the Peel Seed Growers' Association and the Brampton Agricultural Society. In 1948 he was warden of Peel County.