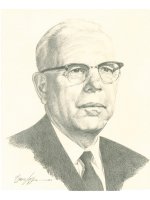 Joseph E. Johnson
(1891 - 1960)
Inducted in 1983
Origin: Middlesex County
Nominated by: Ontario Association of Animal Breeders
Specialty: Livestock
---
Joseph Edward "Joe" Johnson, a native of Strathroy, Middlesex County, was a pioneer in the practice of artificial insemination (AI) in Ontario. In 1942, when the Waterloo County Holstein-Friesian Association made their first attempt, it was "Dr. Joe" who collected the semen and treated the cows. For five years he took time out of an already busy practice to make the new idea work. Many of the younger veterinarians who worked with him were later to be in charge of AI units across Ontario.
He graduated from the Ontario Veterinary College in 1919 and after working in Fergus and Acton, set up practice in Waterloo, where he worked with the noted Seagram Stables. He pioneered the multi-staff clinic approach, having as many as four students and graduates working with him. Because of this internship approach, Dr. Johnson probably had a greater influence on the practice of large animal veterinary medicine than any other practicing vet of his day.
The ultimate success of the AI system is due, in large part, to the work of this veterinarian who, through trial and error, persevered with the technique in its early years.