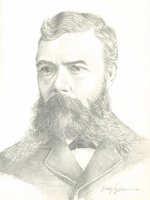 Joseph Fleury Jr.
(1832 - 1880)
Inducted in 1988
Origin: York Region
Nominated by: The Fleury Family Board
Specialty: Equipment
---
The name "Fleury" stands out in the history of the Ontario agricultural implement industry.
In 1859, Joseph Fleury Jr. founded the Aurora Agricultural Works and began the production of ploughs. A tribute to the entrepreneurial spirit, he redefined the design of his product, which resulted in the Fleury No. 21 single furrow "Dandy" plough – famous across the country. There were twelve models of ploughs made to meet different soil conditions.
Based on the success of his ploughs, Mr. Fleury expanded his production to include implements such as scufflers, horse powers, fanning mills, mowers and binders and, at one time, produced a sewing machine. He rebuilt his entire factory following a devastating fire in 1876.
In addition to his leadership in the business community, Mr. Fleury was a well-known figure in public life. Following the incorporation of the Village of Aurora in 1873, he served as Reeve for a seven-year term. He also held the position of Warden of York County for two years.
Following his early death, the agricultural works became known as J. Fleury's Sons and continued production until 1941.