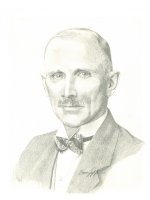 Joseph H. Patrick
(1863 - 1939)
Inducted in 1980
Origin: Middlesex County
Nominated by: Mr. William A. Stewart
Specialty: Livestock - Sheep, Livestock - Beef, Organizations
---
Joseph Patrick of Ilderton, Middlesex County, was a leading Ontario stockman and importer, breeder and exporter of purebred sheep and cattle at his well-known Fairfield Stock Farm. In 1900/01 he shipped a complete trainload of 600 purebred Lincoln ewes to Oregon and in 1922 organized one of the first shipments of Holsteins to Japan. In 1927 he imported 100 purebred Suffolk ewes from Britain and made another importation 3 years later.
His livestock won major awards in show rings across North America, including best Lincoln ram and ewe at Spokane, Washington in 1905, 3 firsts at Ogden, Utah in 1908, plus a great number of awards from Ontario shows like the Guelph Winter Fair, the London Western Fair, the Canadian National Exhibition and the Royal Agricultural Winter Fair in Toronto. He won at the International Livestock and Grain Show in Chicago and the World's Fair in St. Louis in 1904. Later, he bred show horses, winning the Governor- General's Cup in 1932 at the Toronto Royal for a champion hunter. His love of good livestock had a major influence on the improvement of Ontario horses, sheep, dairy cattle and beef cattle.
Active in his community, Mr. Patrick served as a member and director of a number of agricultural organizations and exhibitions.