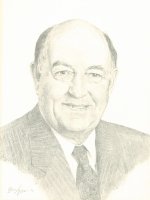 Kenneth G. McKinnon
(1928 - 1991)
Inducted in 1993
Origin: Bruce County
Nominated by: Ontario Milk Marketing Board
Specialty: Livestock - Dairy
---
A native of Bruce County, Ken McKinnon tirelessly served the dairy industry in Canada for thirty years. His personal conviction that order and stability benefited all sectors of the industry from producers to consumers and that supply management and orderly marketing led to increased efficiency, improved milk quality and the elimination of waste, marked him as a visionary and a leader.
From 1960 to 1965 Mr. McKinnon was a director of the Ontario Concentrated Milk Producers Marketing Board. Selected by Hon. Wm. A. Stewart, Minister of Agriculture and Food, to be a member of the newly formed Ontario Milk Marketing Board in 1965, he was to be instrumental in the reorganization of Ontario's dairy industry. Serving on every committee of the board, Ken McKinnon took part in the many decisions that revolutionized milk production, pricing and marketing in the province including provincial pooling, milk can to bulk tank conversion, the quota exchange and the implementation of plant supply allocation. He supported the privatization of milk recording and was a founding director of the Ontario Dairy Herd Improvement Corporation.
Mr. McKinnon's many years of leadership in Ontario led him to executive positions in national dairy organizations such as the Dairy Farmers of Canada and the Dairy Bureau of Canada. In 1986 he was appointed Vice-Chairman of the Canadian Dairy Commission and subsequently chaired the federal task force on national dairy policy. Ken McKinnon's commitment has done much to make Canada a world leader in the dairy industry.