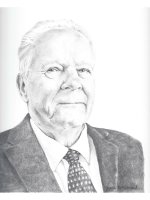 Kenneth Porteous
Year of birth: 1936
Inducted in 2019
Origin: Norfolk County
Nominated by: The Norfolk Fruit Growers' Association
Specialty: Crops - Fruit, Livestock - Dairy, Organizations
---
Ken Porteous has been at the front lines of many agricultural activities from the early 1970s to the present.
He began his farming career on Lingwood Farms and became an elite dairy breeder. He collaborated with the University of Guelph in the first successful dairy embryo transfer ever completed. Ken was a member of the Committee that established Western Ontario Breeders Inc. (WOB) and he sold dairy bulls to WOB, United Breeders and to Cuba, the U.S. and Africa. When he sold his herd in 1973, the average price per animal was the highest ever paid for a herd in Canada.
He then decided to expand his orchard acreage and today Lingwood Farms has grown to 865 acres which Ken farms in partnership with his son, son-in-law and grandson. When the processing plant for his sour cherries suddenly closed, Ken and four partners formed the Norfolk Cherry Company and Norfolk Growers. The company now processes 90% of the Canadian production of sour cherries and provides a market for growers from Blenheim to Niagara. Ken also took the business risk of planting 20 acres of an unknown apple variety named Honeycrisp even though no consumer demand had been established for this new variety. Honeycrisp is now one of the top selling apples in Ontario and has gained a wide consumer following across North America.
In 1991, he became President of the Ontario Fruit and Vegetable Association, and from 1990 to 2010, he served as Vice Chair of the Ontario Tender Fruit Growers Marketing Board. He was not satisfied with the safety net programs available to Ontario horticulture producers, so he helped to develop and lobby for the Self-Directed Risk Management Program (SDRM) that is now the most widely used safety net program in Ontario.
When Ken became the President of the Canadian Horticulture Council (CHC) in 2007, food safety was becoming an increasing concern for retailers. As a result, growers were being asked to comply with different food safety requirements for each retailer. The inevitable administrative burden was unsustainable, and so the CHC developed the Canada Gap program. This ensured consistently safe food and a reduction in compliance costs and complexity. Canada Gap has been internationally recognized and used as a model in other countries.
From his appointment to the Canadian Agriculture Marketing Council to his work on behalf of Ontario Foreign Agriculture Resources Management Services (FARMS) and many other responsibilities in between, Ken Porteous is an impressive Inductee into the Ontario Agricultural Hall of Fame.