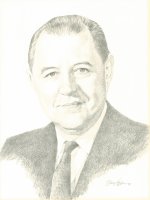 Leonard Harman
(1910 - 1993)
Inducted in 1993
Origin: York Region
Nominated by: United Co-operatives of Ontario
Specialty: Co-operatives
---
A native of York County, Leonard Harman's name has been associated with the co-operative movement in Ontario for more than sixty years. A ceaseless advocate of the political and economic well-being of farmers he was well known as a practical educator and an astute businessman.
While attending Aurora High School and working on the family farm, Dr. Harman was involved in many rural organizations and regularly contributed to farm journals. After graduation he became the Educational Secretary of the United Farmers of Ontario and edited their house organ the Rural Co-operator. Working at the executive level of several co-operative organizations, in 1948 he was named a member of the reorganization team and was instrumental in the formation of the United Co-operatives of Ontario (UCO) holding the position of General Manager from 1960 to 1971.
Leonard Harman has had a life-long commitment to education. Working with Ontario Folk Schools, and as the Extension Secretary for Pickering College, he gained invaluable experience which he subsequently applied during his work with the development and organization of Canada's internationally famous Farm Radio Forum program. Leonard Harman's involvement in the Association for Adult Education, the Canadian Institute of Public Affairs and the Food and Agriculture Organization of the United Nations has brought acclaim to Canada in the fields of rural development and world peace.
In recognition of his contributions to co-operatives he received an Honourary Doctor of Laws degree from St. Francis Xavier University in Nova Scotia.