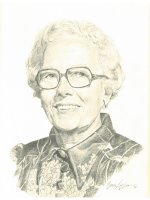 Mary Trivers
(1913 - 1993)
Inducted in 1995
Origin: Algoma District
Nominated by: Algoma East Women's Institute
Specialty: Education
---
Home and Country is the motto of the rural organization, the Women's Institute, that Mary Trivers devoted much of her life working for, but it also exemplifies her life and deeds. A tireless worker in her community, Mary Trivers embodies leadership in community action.
The youngest of four children, Mary was born in Sault Ste. Marie, Ontario, where she attended local schools. Trained as a teacher at the North Bay Normal School, Mary taught for several years before marrying Leonard Trivers. The young couple farmed near Kynock and Mary and Leonard raised a family of seven, four boys and three girls, before Mary returned to being a full-time teacher. Locally, Mary was a dedicated community volunteer serving as a 4-H leader, a Vice-President of the Arthritis Society and a member of the library board.
Mary joined the local Women's Institute in 1932. In 1945, the family moved to near Thessalon and Mary transferred to the Royal Branch. In 1948 she was one of the charter members of a new Queen Elizabeth Institute. Aside from her local work with these Institutes, Mary was also a provincial and national leader for the organization. From 1963-65, she served as the President of the Federated Women's Institutes of Ontario (FWIO) and in 1965 headed the Ontario contingent to the Associated Country Women of the World's international conference in Ireland. She also served as the Second Vice-President of the Federated Women's Institute of Canada from 1970-73, was a member of the Ontario Food Council and was a Women's Institute representative to the Vanier Institute of the Family.
Locally, provincially and nationally, Mary Trivers was a leader, devoted to improving life for her family, her community and her country, embodying the principle of the Women's Institute movement.