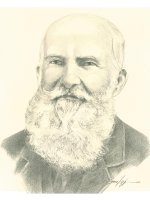 Michael P. Cook
(1824 - 1910)
Inducted in 1983
Origin: Stormont, Dundas & Glengarry United Counties
Nominated by: Holstein Friesian Association
Specialty: Livestock - Dairy, Organizations
---
Michael P. Cook of Aultsville in Stormont County was one of the founders and the first president of the Holstein- Friesian Association of Canada. Born in 1824, he was a successful farmer on his 200 acres, and was an avid reader of the farm journals of his day.
A person of rare perception and willingness to try new ideas in agriculture, he became interested in the new breed of dairy cattle being introduced south of the border, and in 1881 he brought two bulls and ten cows from New York State to Ontario. This was the first recorded importation of purebred Holstein-Friesian cattle into Canada.
In 1883, he and his American associate made the first direct importation from the Netherlands, some 100 head, which took six months to get through the quarantine station at Levis, Quebec. Some 19 head were shown that year at the Toronto Exhibition and at Kingston and London fairs.
In 1884, the Holstein-Friesian Association of Canada was founded and Mr. Cook remained its president for the first three years. By 1892, the Association had grown to 87 members, but in that year Mr. Cook, now nearing 70 years of age, retired because of his failing health.
His herd of 39 head was dispersed, which further spread the new breed across Ontario. One son, Minard, remained on the family farm and continued with Holstein-Friesians until he too retired in 1914.