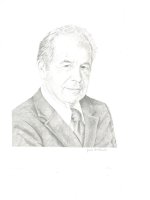 Napoleon U. King
(1912 - 2005)
Inducted in 2007
Origin: Kent County
Nominated by: Kent County Agricultural Hall of Fame Association
Specialty: Conservation, Crops - Seeds, Crops - Grain, Crops – Seed Grain, Organizations
---
Napoleon King was a visionary who could see the opportunities for hybrid seed corn in Ontario and Canada. The ingredients of his story include a multi-million dollar international company (King Grain and Seed Co. and later King Grain Ltd.) based in a small Ontario town (Pain Court near Chatham); a venture in Europe with France-Canada Semences and an unending search for ever better varieties of seed corn, soybeans and cereals. Nap King was a born innovator and he could see that the vigor of the new corn hybrids was superior to the old, open-pollinated corn varieties. He grew his first crop of hybrid corn in 1938 on his home farm in Dover Township. Subsequently, Pride Company was launched in 1949 to distribute Pride corn across Canada. The introduction of Pride 5 in 1958 made possible the rapid expansion of grain corn production in the lower heat unit areas of Ontario. He had begun shipping grain out of Chatham to supply feed companies, cereal manufacturers and distillers way back in 1934. The King farming enterprise included 1800 acres on Walpole Island and St. Ann's Island near Wallaceburg; a research farm near Chatham; a 1000-acre farm operation near Lancaster, Glengarry County named Sepco, a seed production and marketing arm in Quebec called Semico Inc. and winter research and multiplication nurseries on small acreages in Hawaii and Chile called King Grain Limited.
Travelling widely, Mr. King always returned home with new ideas, methods and technologies. He worked with farm machinery dealers and agricultural chemical and fertilizer companies to introduce modern technologies to farmers. He observed plastic tile used for drainage in Europe and brought the idea back to Daymond, a local plastic manufacturer in Chatham and subsequently introduced tile drainage to eastern Ontario on his farming venture there. In the early 1970's, he was a leader in introducing Canadian soybeans to the South East Asian and Japanese markets. Following the launching of the European venture, he was successful in securing seed corn multiplication contracts for export to various seed companies in France, providing additional seed corn acreage for Southwestern Ontario seed corn growers. With the help of his associates, he established the corn milling operation in Chatham in the early 1970's so that Ontario grown corn could be used in the Eastern Canada brewing and food industries.
Being fluently bilingual, Nap King communicated well with French speaking farmers in Ontario and Quebec, and continually promoted the importance of a strong and prosperous farm economy in Canada. His proudest moment was being named the 'Father of Grain Corn' in Quebec bestowed on him by the Minister of Agriculture in Quebec before hundreds of corn growers. He also shared his knowledge of farming and seed widely and even worked in West Africa to advise governments there on the best crops and production methods to use in their soils and climates.
Mr. King received numerous awards during his long and productive life, including Honourary Life Member of the Canadian Seed Growers' Association, the O.A.C. Centennial Medal, the Queen's Jubilee Medal, the OMAF Centennial Award, an Honourary Life Member of the Canadian Seed Trade Association and induction into the Kent Agricultural Hall of Fame.
Napoleon King's foresight, vision, drive and innovative approaches to agricultural production made him a giant in the industry and very deserving of a place in the Ontario Agricultural Hall of Fame.