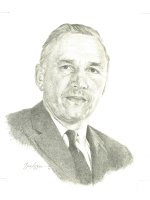 Oliver Augustine Bradt
(1913 - 2004)
Inducted in 2002
Origin: Niagara Region
Nominated by: Ontario Grape Growers Marketing Board; Niagara Branch of Ontario Institute of Agrologists
Specialty: Crops - Fruit, Organizations, Research
---
Over the course of forty years since serving in the Army during World War II, "Ollie" Bradt is known both locally and internationally as an exceptional breeder of grapes , peaches , nectarines and apricots . He has introduced and evaluated numerous cultivars from around the world for their suitability to Ontario and Canadian conditions. He has taken a proactive role in service to the horticultural industry through his work with the Ontario Department of Agriculture and latterly with the Horticultural Research Institute of Ontario. He has spent countless hours in planning educational programs, promoting superior varieties, working closely with producer and trade organizations, establishing long range breeding strategies and reaching out to international resources for technical knowledge to improve the horticultural industry.
Early in his career, Mr. Bradt's work focussed on improving dessert grapes but as the wine industry expanded in the Niagara Peninsula, he began to introduce and evaluate V.vinifera varieties from around the world. The French hybrids and vinifera varieties have transformed the grape and wine industry in Ontario into what is now a world renowned wine producing region. He also developed the cultural practices of production that made these new varieties so responsive to Ontario conditions.
"Ollie" Bradt carried his breeding expertise into the development of fresh peach and processing varieties. His breeding program developed peach varieties that matured much earlier and extended the growing season. He is also credited with developing the clingstone processing industry in Ontario. The province's fruit processing industry would not enjoy its leadership position if it had not been for Mr. Bradt's hardwork, dedication and expert mind and hand in developing these new varieties. "Ollie" also introduced several varieties of apricots to the horticultural community through his initial breeding program and has followed that up by selecting several promising varieties that are currently being evaluated.
Oliver Bradt has been a prolific writer having published many scientific papers on plant breeding and cultivation. These have been invaluable for growers and the scientific community.
In 1974 he was awarded the prestigious American Wilder Medal given to individuals who have contributed the most to the improvement of cultivars of various kinds of fruit. In 1979 he was named Fellow of the Agriculture Institute of Canada, the highest honour given by the organization. He has also received awards of merit from the Ontario Fruit and Vegetable Growers Association, the Canadian Horticultural Council and the Niagara Fruit and Vegetable Growers' Association.
"Ollie's" community service has also been exemplary in church, school, lodge, sports and family life.
Oliver Bradt's many contributions to plant breeding, education, and his ability to work with people and bring them together have contributed to the advancement of Ontario' s agriculture industry in a significant way.