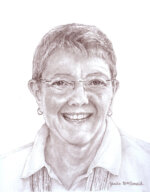 Patricia Louise Mighton
Year of birth: 1942
Inducted in 2022
Origin: Waterloo Region
Nominated by: Rural Ontario Institute
Specialty: Education
---
Pat Mighton has been a dynamic force in Ontario agriculture through her advocacy, leadership in agricultural education, fundraising work, and her ability to accomplish goals professionally and effectively.
She is a 1964 graduate of the Ontario Agricultural College (OAC) and received a Bachelor of Education in 1984 (University of Western Ontario) and a Master of Science in Rural Development in 1993 (OAC). Her leadership role began as class secretary for OAC '64, a role she has maintained for nearly six decades. She and her OAC '64 classmates successfully conducted a $200,000 fundraising project to mark their 50th anniversary by creating a new Ontario graduate scholarship. To date, 12 OAC graduate students have received support to allow them to continue their studies and research in agriculture.
Pat's service to the University of Guelph continued as the first female president of the OAC Alumni Association (1978-79) and then as the chair of the OAC Alumni Foundation (OACAF) (1994-97). She also served on the U of G Senate (1998-2001) and was a member of the International and Awards Committees.
As president of OACAF, Pat led a major effort to raise ACCESS funds to financially assist OAC students and to promote OAC as a leading-edge educational facility for agriculture. In the mid 1990's, OAC enrollment had been falling and the U of G was assessing its viability as a stand-alone college. Pat's promotion of the ACCESS program played a big part in giving OAC a recruitment advantage and the ability to increase the awareness of the excellence of its programming and subsequent career opportunities for its graduates. Today, the enrollment decline has been reversed and OAC is thriving.
In 1984, Pat joined the Ontario Ministry of Agriculture as education specialist. She was responsible for coordinating the Agriculture in the Classroom program in its early days. Her ability to further the development of educational resources to support school curricula was invaluable in creating what is now known as AgScape Ontario.
Pat Mighton's life work in agricultural education and organizational development continued as the Rural Organization Specialist for the Region of Waterloo. In that role, she helped to mentor 4-H as the organization had lost a significant portion of funding and needed to pivot to a donor model to finance its activities.
Pat ultimately moved on to become the executive director of the Advanced Agricultural Leadership Program (1987 - 97) where she led this unique, disciplined, and thought-provoking leadership opportunity for people working in agriculture and rural Ontario. AALP is now in its 36th year with 480 alumni in many positions of leadership in the agriculture, food, and rural sectors. These leaders continue to shape the future making multiple contributions to a modern, professional, and competitive Ontario agriculture and food industry and a positive difference in rural communities.
Pat Mighton continues to contribute to Ontario agriculture in numerous ways. As a visionary leader and educator, she has earned a well-deserved place in the Ontario Agricultural Hall of Fame.