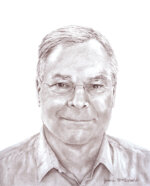 Paul Kelly
Year of birth: 1958
Inducted in 2022
Origin: Middlesex County
Nominated by: Ontario Agricultural College, University of Guelph
Specialty: Apiculture, Research
---
Paul Kelly has managed the Honey Bee Research Centre (HBRC) at the University of Guelph since 1987. This includes managing over 300 bee colonies across 13 apiaries as well as two isolated apiaries on islands in Lake Simcoe for breeding specific stock. He also owns Golden Glow Apiaries in Fergus and sells his personal bee stock to new and experienced beekeepers across Ontario.
This is important work as so much of our food depends on pollinators to sustain crop quality and yields, worth at least $400 million annually to Ontario agriculture. Yet, bees are subject to a number of complex stresses, diseases and pests. Paul has developed unique methods and innovations to counteract some of these, making him an internationally acclaimed bee expert known for his abilities as a gifted speaker, teacher and extensionist.
He has established an isolated queen mating station to breed a pure stock of bees tolerant to tracheal mites and another isolated quarantine zone to test and breed stock resistant to varroa mites. He has conducted thousands of tours, classes, and presentations for everyone from children to homeowners wanting to plant pollinator gardens, to professional beekeepers. He has developed a series of 72 instructional videos on YouTube translated into eight languages with already 6.7 million views from over 100 countries. He has also commissioned the HBRC website; instituted a popular volunteer program at the HBRC and created a brochure on 'Creating a Bee Friendly Garden'.
Paul is effectively educating the world as a global thought leader in pollinator education and research. He was awarded the Roger A. Morse Teaching/Extension and Regulatory Award in the USA in 2017, and one of his inspired mentees has donated $6 million towards building a new HBRC.
Paul has designed or co-designed many inventions now commonly used by Ontario beekeepers including a special tool belt, winter hive wraps, nucleus colony boxes, a bee pollen collection device, queen bee rearing equipment as well as monitoring devices for parasitic mite populations and biological control fungi.
He currently serves on the Pollination and Apiculture Advisory Committee of Ontario and on the Ontario Animal Health Network Apiculture Committee along with involvement and membership in several additional bee and honey related organizations.
It is clear that Paul Kelly is an outstanding contributor to the Ontario bee industry and consequently to Ontario agriculture. His ongoing contributions make him an excellent inductee into the Ontario Agricultural Hall of Fame.