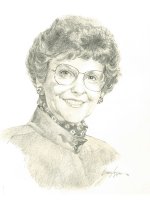 Peggy Knapp
(1928 - 2014)
Inducted in 1998
Origin: Perth County
Nominated by: Federated Women's Institutes of Ontario
Specialty: Women's Institute
---
Born and raised in Perth County, Peggy Knapp has dedicated her life to increasing the awareness of women's issues at home, across Canada and around the world. A champion of agriculture and rural affairs, she has had a profound influence on the lives of many people.
Peggy has been a dedicated member of Women's Institutes since 1950, and has served with distinction and held many offices at the branch, district and area levels. She was Provincial President of Federated Women's Institutes of Ontario (FWIO), 1989-1991 and in 1992 was elected Canada Area President for the associated Country Women of the World (ACWW), an international organization active in 65 countries. Two ACWW projects, operating in consultation with the United Nations, are "Water for All" and "Women Feed the World". These projects have had a dramatic impact on women and their families in many developing countries. In 1994 Peggy represented ACWW at the closing conference for the International Year of the Family in Montreal.
Active in her local community, Peggy Knapp has served her Church, as President of her Home and School Association and as a Trustee of her local school board. She has served on the Advisory Boards of Ontario Agricultural College, Ontario Veterinary College, Ontario Agricultural Museum and on the Education Advisory Board for the Grand River Conservation Authority.
Peggy is currently President of the Canadian Agricultural Hall of Fame and a member of the Executive and Agriculture Administration Committees of the Royal Agricultural Winter Fair. Her organization and communication skills have served her well as leader on tours to the United Kingdom, Europe, South Pacific, Australia and Russia. In 1997 Peggy chaired the highly successful "Convention '97", celebrating the 100th anniversary of Women's Institutes. Peggy Knapp's influence will be felt in this country and abroad for many years to come.