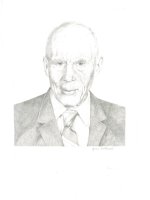 Peter Barclay Dick
(1912 - 1991)
Inducted in 2007
Origin: Renfrew County
Nominated by: Ottawa Valley Seed Growers' Association
Specialty: Crops - Seeds, Crops - Grain, Organizations
---
Barclay Dick was a dedicated pioneer in the production of pedigreed seed in Ontario, and one of the first to condition and process pedigreed seed in Eastern Ontario.
Recognized as an Elite Seed Grower by the Canadian Seed Growers' Association, Barclay worked closely with plant breeders, government officials, and universities in developing and multiplying numerous varieties of both cereals and forage seeds. Some of these varieties became popular right across Canada. He fully understood the merits and rewards of producing high quality seed using the pedigreed system, and he followed the rules and procedures of the Canadian Seeds Act and Regulations to the letter.
Barclay Dick was dedicated to establishing practices for identifying and refining seed strains which would optimize yields and quality of grain. These practices were adopted provincially and also by Agriculture Canada, and they played a significant role in the development of the seed grain business across Ontario. To this day, the practices pioneered by Barclay continue to contribute to the efficiency and productivity of beef, dairy, and hog operations as well as the cereal and brewing industries. As one of the limited number of Elite Growers monitored by Plant Producers of Agriculture Canada, Barclay's select plots promoted high quality grain production across Canada and contributed to the value of Canadian grain in export markets.
Other leaders in agriculture saw opportunities to work with Barclay Dick to further improve farm productivity through innovative land and livestock management practices. These included trials to promote business opportunities for fertilizer and seed distributors. In conjunction with Ottawa Valley Grain Products, he also conducted multiplication trials of breeder seed that were fundamental to establishing peas as a viable crop alternative in Ontario and Manitoba.
Recognition from his peers and farm organizations was frequent. He received numerous awards at local and regional seed fairs including an international award at the Chicago Seed Fair. Barclay also won the Ottawa Farm Journal trophy for outstanding achievement as a seed grower; the H.H. McNish award for outstanding contributions to agriculture and the community; the Bicentennial Certificate of Merit from OMAF; recognition as a Robertson Associate by the Canadian Seed Growers' Association; the Award of Merit and Long Time Service from the Renfrew County Soil and Crop Association; inauguration into the Renfrew County Wall of Fame; and the Dwyer trophy for outstanding exhibit of Red Clover four times.
Barclay and Eva Dick's five children have continued their father's legacy. Two of his sons are involved in the production and processing of pedigreed seed; another operates one of Ontario's most successful bull and heifer evaluation centres; and yet another son has established a profitable farm supply business which integrates innovative seed growing concepts. The original Dick Farm of 100 acres, now encompasses over 3000 acres, and continues to welcome provincial, national, and international delegations. Barclay would be extremely proud to know that one of his granddaughters recently became a partner in her parent's business.
Barclay Dick was a teacher and mentor and was always willing to share his expertise with students, Junior Farmers, agricultural representatives and many others. He will be an outstanding inductee in the Ontario Agricultural Hall of Fame.