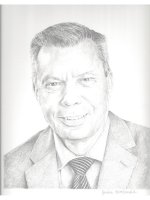 Peter Hannam
Year of birth: 1939
Inducted in 2015
Origin: Wellington County
Nominated by: Ontario Federation of Agriculture
Specialty: Agri-business, Crops - Seeds, Crops - Grain, Organizations
---
Peter Hannam has been a pivotal player in the development of the soybean as a major crop in Ontario with soybean acreage moving steadily from the southwest corner of Ontario in the 1960's to many other parts of the province and Canada. Peter's acumen in agribusiness and marketing and his ability to seize opportunities in developing short season soybean varieties and other crop technology advances have played a vital role in this growth.
In 1982, Peter Hannam became the President of First Line Seeds, which was a partnership of 12 independent seed growers introducing high quality, certified seed and new genetics to Ontario soybean growers. First Line Seeds created new markets for growers with the development of identity preserved (IP) soys along with foreign niche markets for food grade soybeans.
Under Peter's leadership, First Line Seeds began Project SOY in 1996 to encourage students to think about the potential of soybeans in the development of new products and business opportunities for entrepreneurs. Then in 2001, Peter initiated Soy 20/20 whose mission is to serve as an incubator of new ideas, connecting government, academia and industry to stimulate new global bioscience opportunities for Canadian soybeans.
Continuing the research and development support, the Hannam Family created the Hannam Soybean Utilization Fund to stimulate innovative research in the utilization of soybeans. The results have been impressive ranging from the creation of new biofibres for the car industry to the incorporation of soybean nutrients into processed foods.
In addition to his visionary successes in the soybean industry, Peter Hannam's other important legacy to Ontario agriculture has been his focus on mentorship in fostering a new talent base and visionary thinking resulting in outstanding new business opportunities in this province and across Canada.
In 2005, Peter and partner Tom Lammer opened the Ontario AgriCentre in Guelph to house as many as 17 agriculture-based tenants as part of the effort to bring a diverse industry together and to stimulate opportunities to co-operate for the advancement of agriculture. Over a lifetime, Peter has shown great leadership in a number of organizations including the Canadian Seed Trade Association, the Canadian Soybean Export Association, the Ontario Agricultural College International Advisory Council, the Canadian Agri-Food Policy Institute and as President of the Ontario Federation of Agriculture, 1977-79.
He has been widely recognized for his many achievements and contributions to agriculture, business and trade, and these honours include the Distinguished Agrologist Award, Ontario Institute of Agrologists 1998; the Agri-Marketer of the Year, Canadian Agri-Marketing Association 1998; the Innovation Award, Monsanto Canada, 2000; the Seed Achievement Award, Canadian Seed Trade Association 2005; Canadian Agricultural Hall of Fame 2006; and an Honourary Doctor of Science, University of Guelph, 2007.
Certainly, Peter Hannam is most worthy of induction into the Ontario Agricultural Hall of Fame.