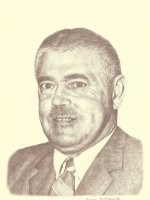 Peter Lewington
(1923 - 1992)
Inducted in 2009
Origin: England
Nominated by: Ontario Pipeline Landowners Association
Specialty: Livestock, Media
---
Peter Lewington emigrated from England after World War 2, and thus began a life in Canada devoted to agriculture on a number of important fronts. From the 1940's to the 1970's, he was a farm journalist for the top farm publications of the day in both Canada and the U.S. (the Farmer's Advocate, Family Herald, Country Guide, Farm & Country and Hoard's Dairymen to name a few). He also wrote for the CBC radio noon farm program and for several major newspapers. He won over 25 national and Ontario writing awards to acknowledge the practical advice, new ideas, and innovations that he brought to Ontario farmers from around the world. Peter was a prescient analyst of trends and modernization in agriculture and brought national and international attention to agriculture in Ontario.
Perhaps his most hard fought legacy was his epic three decade battle to bring justice to farmers dealing with utilities and pipelines crossing their land. A 1978 court decision, upheld by the Ontario Court of Appeal in 1981, ruled that farmers must be adequately compensated when pipelines cross their land and that the topsoil must be protected. Mr. Lewington subsequently published his book (No Right of Way: How Democracy Came to the Oil Patch) to record the struggle and the ultimate outcome. This achievement was followed by the formation of the Ontario Pipeline Landowners Association (OPLA) and the Canadian Alliance of PLA's.
In 1987, the University of Western Ontario awarded Peter an honourary Doctor of Laws degree for his singularly important contribution to agriculture and to the protection of the rural environment. In addition, Peter and his wife Jean were practical farmers with a passion for excellence. Their farm, Larigmoor, boasted a top notch dairy herd, and later a cow-calf beef herd, laying hens, turkeys and cash crops. This farm base gave Peter Lewington a reputation for practical credibility, for accurate and informative articles, and as an advocate of grassroots action. He was also instrumental in the development of a new form of farm magazine publishing the Agri-Book magazines, featuring content that focused on a particular crop or animal breed. This original concept lives on in the magazines now owned by AIS Communications.
To be sure, Peter Lewington is a fine example of those who have been honoured by the Ontario Agricultural Hall of Fame Association. He was a person who made widespread contributions to Ontario agriculture by learning and writing about innovative practices and new technologies, which had the potential to improve agriculture production and quality, to enhance the rural environment, and to increase farm incomes.