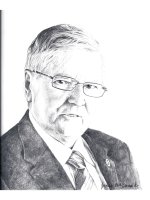 Peter Twynstra
Year of birth: 1939
Inducted in 2019
Origin: Middlesex County
Nominated by: Ontario Bean Growers
Specialty: Crops, Organizations
---
Peter Twynstra is widely recognized for agricultural innovation, a proven ability as a marketer and for his leadership in a number of agriculture and community organizations.
Peter's farming career began in 1962 when he purchased his father's farm, expanded it and incorporated it in 1967 as Twilight Acre Farms. A key part of his business was the production of edible beans. In 1978, he founded The Great Canadian Bean Company in order to more effectively market his and other locally grown beans. The business grew to provide markets for more than 400 contract growers across Ontario, Canada and parts of the U.S. In 1986, the London facility of the Ontario Bean Growers Co-op was purchased and a joint venture was begun in Quebec. The number of satellite receiving facilities grew to six and the beans were marketed in 37 countries around the world. Peter traveled to many parts of the globe developing diversified markets for edible beans. In 2008, the Great Canadian Bean Company was sold to Hensall District Co-op, and Peter's son Steve continues to operate Twilight Acre Farms.
Peter was active on a number of industry related Boards including as Director and President of the Ontario Bean Dealers Association; Director of the Canadian Special Crops Association; and Director and Founding Member of Pulse Canada. The advent of Pulse Canada allowed provincial grower groups to work together on successful joint strategies for marketing and research, and 2016 was declared the International Year of Pulses by the United Nations.
Yet in spite of the demands on his time, Peter generously served other organizations as well. In 2002, he was the Chair of the International Plowing Match in Middlesex County. He led the development of the first Ontario Farm Safety Board in 1973, and served as a Director of the Canadian Safety Council and as a Director of the National Institute of Farm Safety.
He has received many awards including as an Honourary Member of the Ontario Institute of Agrologists, the Canadian Governor General's Jubilee Medal, the Lifetime Achievement Award from Ridgetown Agricultural College in 2010, the Rotary International Board of Directors Service Above Self award and the Rotary Paul Harris Fellow designation.
Peter Twynstra is a person well deserving of induction into the Ontario Agricultural Hall of Fame.