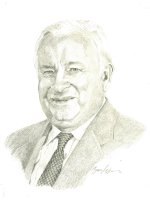 R. Gordon Bennett
(1916 - 1995)
Inducted in 2002
Origin: Wentworth County
Nominated by: The Corporation of the County of Huron, Canadian 4-H Council and Ontario Soil & Crop Improvement Association
Specialty: Crops - Grain, Crops – Tobacco, Education, Government, Organizations
---
Gordon Bennett, from Wentworth County, held a lifelong commitment to the improvement of all facets of farm and rural life. As a professional agriculturist and civil servant, Mr. Bennett demonstrated leadership in the evolution of Ontario's system of marketing agricultural products by promoting better federal provincial relations and by encouraging growth of domestic and export markets particularly for white beans and tobacco. He also guided the formation of the Ontario Food Council and the selection of the motto "Good Things Grow in Ontario". He was instrumental in having Ontario's Boys and Girls Clubs transformed into 4-H Clubs. He was a 4-H pioneer both provincially and nationally.
Mr. Bennett led in organizing the Ontario Agricultural College, the Ontario Veterinary College and Macdonald Institute into the Federated Colleges as part of the process in establishing the University of Guelph. He recommended retention of a parcel of College land for future needs of the Ontario Department of Agriculture. As a result. The headquarters of the Ontario Ministry of Agriculture, Food and Rural Affairs is now located at the heart of an agriculture complex comprised of the University of Guelph, its Research Park and major agribusinesses and commodity organizations.
Gordon Bennett advocated development and improvement of animal health programs to ensure quality and safety of livestock products through the Ontario Meat Inspection Act, milk quality programs the Brucellosis Control Program and the Veterinary Laboratory Diagnostic Service.
As Deputy Minister, he chaired the committee during the mid seventies that annually recruited a pool of labour to harvest Ontario's perishable crops and because of his leadership, government money was provided for improvements for on-farm housing for casual workers.
The Ontario Telephone Services Commission that Gordon chaired for several years was involved in the upgrading or sale of many rural phone systems to improve the telephone network in rural Ontario.
Gordon Bennett was instrumental in the purchase of land leading to the establishment of the Ontario Agricultural Museum at Milton and the acquisition of the Matthews Farm Collection at Hawkestone as a base for the museum collection. Mr. Bennett loved music, was active in church, lodge and Rotary International from which he received its highest honour, the Paul Harris Fellow in 1988.
He received the Canada Centennial Medal in 1967,was an active member of the Ontario Institute of Agrologists and the O.A.C. Alumni Association. After his graduation from the Ontario Agricultural College in 1943 Gordon Bennett moved from Agricultural Representative, to Chief of the Marketing Division to Assistant Deputy and finally to Deputy Minister of the Ontario Ministry of Agriculture and Food. In each capacity Mr. Bennett contributed significantly to the rapid changes that took place in Ontario agriculture during the 50's, 60'sand 70's.