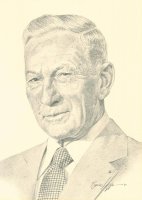 Raymond H. Kemp
(1906 - 1982)
Inducted in 1985
Origin: Ottawa-Carleton Region
Nominated by: Ottawa Valley Seed Growers' Association
Specialty: Crops - Seeds, Livestock - Dairy, Organizations
---
Born and raised on the family farm in Gloucester Township, Raymond Kemp was an outstanding example of a successful farmer-citizen. A Holstein-Friesian breeder for 40 years, he also was a recognized producer of pedigreed seed.
Mr. Kemp held executive positions in such local organizations as the Holstein Club, Soil and Crop Improvement Association, Federation of Agriculture and was instrumental in forming the first 4-H Club in his area. A staunch advocate of artificial insemination of cattle, he was a director of Eastern Breeders Inc. from its beginning and was President of the Ontario Association of Animal Breeders when the first exports of semen were undertaken.
A keen showman, he was one of the group that expanded the Ottawa Valley Farm Show and became its General Manager.
Raymond Kemp received many awards and much recognition for his efforts to improve farm practices including that of being chosen as a Robertson Associate Member by the Canadian Seed Growers Association.