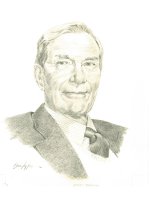 Robert Serson Sparrow
(1908 - 1996)
Inducted in 2000
Origin: Ottawa-Carleton Region
Nominated by: Ottawa Valley Seed Growers Association
Specialty: Crops - Seeds, Equipment, Livestock - Beef, Livestock - Swine, Organizations
---
Robert (Bob) Serson Sparrow and his spouse, Bessie, maintained their Carleton County seed production premises in immaculate condition, just as they did the family farmstead.
Bob Sparrow, a progressive, model producer enthusiastically adopted modern techniques for producing pedigreed seed grain, beef cattle and pork. He pioneered the use of Birdsfoot Trefoil for productive pasture. Conservation was foremost in his mind. Bob won livestock judging competitions at the regional and provincial levels as early as 1927.
As a founding member and President of the Ottawa Valley Seed Growers Association, Bob Sparrow contributed 35 years to the pedigreed seed industry. He was recognized by being named Robertson Associate by the Canadian Seed Growers' Association in 1942. He was selected to receive the H. Harris McNish Award in 1969 as the Top Farmer in Eastern Ontario. Mr. Sparrow served as an enthusiastic and effective 4-H leader for over a decade. Although he lacked formal education, he was a learned man who continued to promote education among young people throughout his career. He served as member and Chair of the Arnprior High School Board, creating an agricultural scholarship fund there. His farm was a destination for many off-campus educational trips by Kemptville College of Agricultural Technology students.
As a founding member of the Ontario Soil and Crop Improvement Association and after serving eastern Ontario agriculture for many years, Bob became President of the Association in 1965.
During his involvement with the Ontario Farm Machinery Advisory Board it became mandatory for machinery dealers to maintain parts supplies on hand for up to ten years.
Mr. Sparrow received the Ontario Agricultural College Centennial Medal in 1974, the Carp Agricultural Society Service Diploma in 1979, the Ciba-Geigy Architect of Agricultural Award in 1981, the Ottawa Valley Seed Growers Award in 1985 and the Ontario Centennial Award in 1988. He contributed to the province through the Ontario Federation of Agriculture as well as through livestock and crop organizations, his church and numerous community activities.