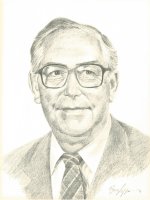 Robert W. Carbert
(1921 - 1999)
Inducted in 1996
Origin: Perth County
Nominated by: CKNX Radio, Murray Gaunt, Rodger Schwass, Ginty Jocius
Specialty: Media
---
A remarkable insight into the past and present of Ontario agriculture, combined with an articulate and literate bent, marked Robert William "Bob" Carbert's life. Born and raised on a farm in Fullarton Township, Perth County, Bob received his education at a one-room school in Hibbert Township. He and his father raised, sold and exhibited Purebred Hereford cattle and as a young man, Bob was active in sports and music.
Following service in the Canadian army during World War II, Bob began a career in agricultural journalism with radio station CKNX in Wingham. For ten years, the last three in television and radio, Bob worked as Farm Director for the station. In 1958, he joined the Canadian Federation of Agriculture in Ottawa as Director of Information and Assistant Secretary and in 1962 moved on to the Ontario Federation of Agriculture as Secretary-Manager.
A prolific freelance writer and journalist, Bob joined the Canadian Broadcasting Corporation in 1964 as the Host and Researcher of the program Country Calendar. During this time, Bob also helped found the Eastern Canadian Farm Writers' Association and for three years served as the Canadian Director in the National Association of Radio and Television Farm Directors.
In 1968, he joined the Ontario Department of Agriculture's Information Branch becoming the Executive Assistant to the Hon. Wm. A. Stewart, Minister of Agriculture. In 1974 Bob was appointed as the first employee of the Ontario Agricultural Museum. For the next nine years as General Manager, Bob's vision and leadership led to the construction and development of one of North America's foremost agricultural history sites.
In the early years of the Museum's development, Bob Carbert conceived the idea of an Ontario Agricultural Hall of Fame. Under his supervision the Hall of Fame Association was established and he served as its first Secretary-Treasurer.
Following his retirement in 1984, Bob continued to pursue a freelance journalism career and take an active part in community life in Wingham. In 1984 Bob was granted an Ontario Bicentennial Certificate of Merit and in 1987 an "Honourary Life Membership" in the Ontario Institute of Agrologists.