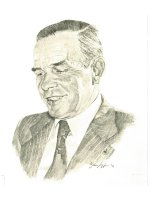 Ronald C. Moyer
(1918 - 2012)
Inducted in 1999
Origin: Niagara Region
Nominated by: The Ontario Grape Growers' Marketing Board and The Tender Fruit Producers' Marketing Board
Specialty: Agri-business, Crops - Fruit, Organizations
---
Ron Moyer was decorated twice during service with the RCAF in World War II. On returning to Canada he purchased a farm at Grimsby, and added further acreage in 1954 and 1969. He became a leading catalyst for the conversion of Ontario's grapes-for-wine industry into one of world class status and esteem. The original commercial planting of specialist table wine grapes was at the Moyer farm in 1949.
Mr. Moyer was the undisputed leader in the re-establishment of the grape and wine industry in Southwestern Ontario. In the early 1970's he developed a large scale Vitis vinifera and French hybrid vineyard. This vineyard became the first supplier of Seyval Blanc grapes and a major producer of vinifera varieties, for Ontario wineries.
He was active in the formation of the Ontario Grape Growers' Marketing Board (1947) and later served 15 years as Chair. During his term, he pioneered the marketing of Ontario's wines and introduced a productive government relations program. Through this program the number of Ontario Winery Retail Stores was doubled.
In 1975, Ron introduced a program to purchase surplus grapes, which were processed and then sold as juice or wine on non-traditional markets. In addition to his work with the grape and wine industry, Ron served as President of the Canadian Horticultural Council, and was a long-term director for the Ontario Tender Fruit Producers' Marketing Board, and the Ontario Fruit and Vegetable Growers' Association.
He has been a consistent supporter of focused research and was able to structure funding for Canada's first virus-free grape vines program, which from 1979 to 1995 supplied virus-free vines to growers and nurseries. He earned several awards for corn and wheat production, including top honours at the Royal Agricultural Winter Fair.
Today, the Moyer home farm produces cherries, pears, apples, as well as grapes, and includes a strong poultry component. In 1980, Ron Moyer endowed a scholarship at the University of Guelph for research into either oenology or viticulture.