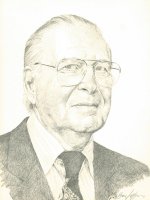 Ross Butler
(1907 - 1995)
Inducted in 1997
Origin: Oxford County
Nominated by: David Butler
Specialty: Livestock - Dairy
---
Born and raised in Oxford County, Ross Butler became a distinguished sculptor and artist who made a lasting impression on agriculture and art in Ontario and across Canada. Described as the "World's leading livestock artist", his portraits and studies of true type farm animals brought international attention to Canadian Breeds. He was a self-taught painter and sculptor whose collection includes numerous original works of art as well as a vast collection of pictures, sculptures, models and other memorabilia.
Butler developed the theory of animal proportions and among his early assignments was a painting of the famous Holstein cow, Springbank Snow Countess. In 1937, he was commissioned by the Ontario Government to paint all the dairy breeds for reproduction and use in Ontario schools and a year later did the same for the beef breeds and draft horses. Many Canadian and international breed associations commissioned Ross to sculpt and paint the ideal (standard) type animal that would depict the ultimate, desirable characteristics of each breed. Between 1947 and 1954 his life-sized butter sculptures were featured at the Canadian National Exhibition and the Royal Agricultural Winter Fair.
Ross Butler promoted the dairy industry throughout Canada. He served as President of the Oxford Jersey Club and in 1949 was founder and co-owner of the "Central Unit" the first all breed artificial insemination facility for cattle in Canada.
In 1980, Ross was made an Honourary Life Member of the Ontario Institute of Agrologists. For his contributions and service to agriculture he received the Ministry of Agriculture and Food's Bicentennial Certificate of Merit in 1984 and the Centennial Award in 1988.