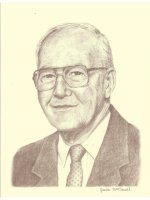 Ross Sinclair Beattie
(1924 - 2011)
Inducted in 2009
Origin: Simcoe County
Nominated by: Mr. Burton Somerville
Specialty: Livestock - Beef, Organizations
---
Over many years of service to agriculture, Ross Beattie has shown leadership which has resulted in significant benefits to the Province of Ontario. In 1944, Ross was the Director of the newly formed Ontario Junior Farmers Association, whose goal was to train rural youth and, through them, improve their communities. Four years later he became the President of Junior Farmers and organized the Leadership Training Schools and the very first Leadership Training camp. He went on to promote the Junior Farmers Exchange program between Ontario, the other provinces, and the U.S. It was these leadership opportunities and exchanges that gave so many rural young people the background that helped them to create successful careers and businesses later in life.
In 1962, Ross was the President of Beattie Brothers Farms Ltd. and began to ship Western steers into Ontario. Always seeking ways to advance the beef industry, Ross became the President of the Ontario Cattlemen's Association in 1964 and helped to persuade Ag Minister WiIIiam A. Stewart to establish the Beef Cattle Marketing Act and the beef marketing check-off to support the work of the OCA on behalf of Ontario beef producers. In 1968/69 Ross Beattie was a founding member of the Canadian Cattlemen's Association, and, as President, worked improving grading systems and livestock transportation systems, both essential components of a competitive beef industry.
During the 70's, Ross somehow found time to begin breeding champion Belgian horses, was President of the Ontario Belgian Horse Association, and was a respected judge of horses at fairs and exhibitions across Ontario, Canada and the U.S. Then in 1988, he was given the Centennial Award for Outstanding Service to the Agriculture and Food Industry.
From 1985 to 1989, he was a founding director of the Georgian Triangle Economic Development Centre. In his role as the Chair of the Investment Review Committee, businesses were assisted with startup loans, and emphasis was put on job creation and strategic economic planning. Because of his advocacy, one of the new businesses to receive assistance was the now famous Miss Vickie's Chips potato chip business.
Ross Beattie's leadership, energy and determination to improve agriculture in Ontario and Canada has resulted in the creation of the Ontario Junior Farmers Association and its leadership Training Camp, in the development of the Ontario Cattlemen's Association and the subsequent market check-off to enable the OCA to work on behalf of beef producers, and in improved beef grading and livestock transport.