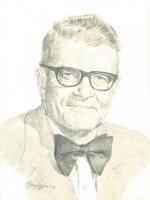 Roy Jewell
(1912 - 1993)
Inducted in 1994
Origin: Elgin County
Nominated by: Middlesex County Federation of Agriculture
Specialty: Media
---
Roy Jewell was born and farmed in Dunwich Township, Elgin County, but his personality and reputation were well known throughout Southwestern Ontario.
He began his career in journalism during the depression as a writer for the Family Herald. Intrigued by investigative reporting, Roy Jewell went on to anchor CFPL-London's first farm radio program, "The Farm Page", which ran for 31 years. When London got its first television station in 1953, the "Roy Jewell Farm Show" became the first regularly scheduled farm television program in Canada.
As a regular contributor to the London Free Press and editorial columnist to the Western Ontario Farmer, he kept his readers, both urban and rural, informed of current agricultural events and trends. Roy Jewell was a founding member and Fieldman for the Middlesex Federation of Agriculture and wrote the history of the organization's first 25 years. Reflective of the diversity of his interest in agriculture, he sat on many commodity boards and was a member of several agricultural associations and fair boards.
Always seeking to expand his knowledge of research, production and marketing, Roy Jewell organized agricultural tours for local farmers to many destinations around the world.
In the community, he was an active member of his church, the Masons, the Chamber of Commerce, Drama Club and Highland Games in Dutton. Roy Jewell was honoured for his involvement and commitment to local, provincial and national agricultural production, marketing and communications organizations.