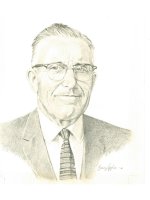 Russel T. Bolton
(1901 - 1986)
Inducted in 2000
Origin: Huron County
Nominated by: Ontario Wheat Producers' Marketing Board
Specialty: Crops - Forages, Crops - Seeds, Crops - Grain, Organizations
---
Russell T. Bolton was widely known as a Huron County pedigreed seed grower and a 10 -time record winner of the World Hay Championship at the Royal Agricultural Winter Fair. His leadership and negotiation skills with both industry and producers led to the establishment of the pool concept for the Ontario Wheat Producers' Marketing Board in the 1960's. Russell Bolton helped establish the concept of adding protein to home grown grains to provide nutrition for pigs in the Bacon Litter Competitions in 1932.
He moved into the seed business as a result of his use of OAC 21 Barley and Erban oats pedigreed seed in the 1930's. As a member of the Canadian Seed Growers' Association, he began producing and selling registered and certified seed in 1956.He became a 'select' seed grower in 1966 and has been honoured by the Canadian Seed Growers ' Association with a Long Service Certificate for his contribution to the pedigreed seed industry.
Mr. Bolton was an organizer and early President of the Huron County Soil and Crop Improvement Association, which holds annual seed shows, junior seed judging competitions, educational meetings and demonstration projects on many progressive crop practices. He served as committee chairman for three International Plowing Matches and served as Secretary Treasurer of the Huron County Plowman for many years.
Russell Bolton was a 1941 charter member of the Huron County Federation or Agriculture, which has become one or the largest county branches of the Ontario Federation of Agriculture. The Federation helped found the Huron County Medical Services o-operative, with Russell Bolton as its first President That model was the forerunner of the current Ontario Health Insurance Program.
Mr. Bolton served on the Seaforth High School Board and played in the Bugle Band, which later became the famous Seaforth High School Marching Band. He maintained an active interest in agriculture, music, church, education, flying and medical services until his death at age 85.