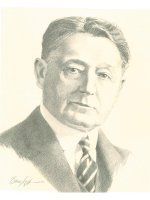 Sir Adam Beck
(1857 - 1925)
Inducted in 1983
Origin: Waterloo Region
Nominated by: Ontario Hydro
Specialty: Livestock - Horses, Organizations, Politics
---
Sir Adam Beck, born in Baden, Ontario in 1857, was a man of immense energy, persuasive skills and long perseverance. He made important contributions in the fields of rural electric power, rural health, and in the breeding of horses.
As the first and a long time chairman of the On1ario Hydro Commission, he pioneered the dream of bringing electric power to the farmsteads of rural Ontario. Although ridiculed as a visionary, he persisted in his idea of public ownership of hydro and of a grid of electric power lines covering rural Ontario until it became accepted. With his famous "Electric Circus" he personally demonstrated what might be achieved.
He was Mayor of London 1902- 04 and served as a member of the Ontario Legislature 1902 -1919. He was a noted horseman with a stable of international reputation. In World War I, he was in charge of the horse procurement commission that bought 26,000 horses for the Canadian Army.
In the field of health, he was a strong advocate of the control and treatment of tuberculosis. For 20 years he served as president of the London Health Association and he provided the Byron Hospital with a nurse's residence at his own expense. He also served as president of the Canadian Association for the Prevention of Tuberculosis.