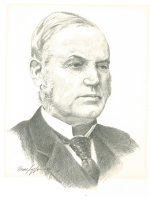 Sir John Carling
(1828 - 1911)
Inducted in 1984
Origin: Middlesex County
Nominated by: Carling O'Keefe Breweries of Canada Limited
Specialty: Education, Organizations, Politics
---
John Carling was born in London Township, Middlesex County. As a young man he was apprenticed into the tannery business, but in 1849 he entered his father's brewery business in London. As both a Provincial and Federal politician, John Carling had a major influence over agricultural policies in Canada. Provincially he was the first Commissioner of Agriculture in 1867 and was instrumental in the establishment of the Agricultural School at Guelph, which was to become the Ontario Agricultural College.
From 1885 to 1892 he was Federal Minister of Agriculture and was largely responsible for the establishment of the Dominion Experimental Farm System. Among his other public offices he was Receiver General of Canada in 1862 and Post Master General from 1882 – 1885. As an elected representative, he pressed for better railway and port services for agricultural products.
In 1882, following the death of his father, he became President of Carling Brewing and Malting Company.
In 1893 he was knighted by Queen Victoria for service to his country.