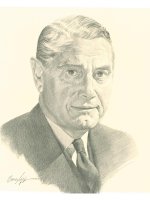 Stewart G. Bennett
(1892 - 1982)
Inducted in 1983
Origin: Frontenac County
Nominated by: Ontario Shorthorn Club
Specialty: Livestock - Beef, Livestock - Dairy, Livestock - Horses, Organizations
---
Stewart Bennett, of Scotsdale Farm, Georgetown, was for 40 years a leading breeder of Shorthorn cattle. From the original nucleus imported from Scotland in 1940,the herd grew in size and stature until cattle were exported to eight countries on four continents The herd was also a consistent prize winner at North American Shows.
His second farm interest was the breeding of Arabian horse.
Mr. Bennett served on the executive of the Royal Agricultural Winter Fair, was its president in 1953 - 54,and served as a Director of the Ontario Research Foundation.
When Mr. and Mrs. Bennett passed away in 1982, they bequeathed the 540 acre Scotsdale Farm to the Ontario Heritage Foundation as a conservation area along with a trust fund for its continuing maintenance.
In his business life, Mr. Bennett was closely connected with farm Interests. He joined the Beardmore Company (tanners) of Acton in 1926 and became the company president. He was for eighteen years a vice-president of Canada Packers and later a director. He also served on the Board of Governors of the University of Guelph and the Board of Canada Permanent Trust.