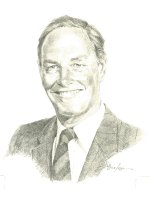 Thomas E. Chudleigh
Year of birth: 1940
Inducted in 2004
Origin: Halton Region
Nominated by: Ontario Farm Fresh Marketing Association
Specialty: Agri-business, Agritourism, Crops - Fruit
---
For over 35 years Thomas Eric Chudleigh, a 1963 graduate of the Ontario Agricultural College, along with his spouse Carol and later their three sons led the fruit industry in apple production and direct farm marketing from Chudleigh's Apple Farm north of Milton in Halton Region. He pioneered in the innovative use of modern approaches to dwarf and high-density tree fruit production, revolutionary pruning techniques and integrated pest management. He was a motivational force in the direct farm marketing movement, "Pick Your Own" entertainment farming and had a significant impact on the efficiency of the Ontario apple industry. Tom was a leader in the identification and development of value added and alternative marketing methods to the traditional wholesale market.
He redefined "Pick Your Own" farm marketing and introduced "Entertainment Farming" more recently known as "Agritourism". Through his dedication and commitment to on-farm sales, growers became price setters and not price takers. As a result, an increasing percentage of Ontario's apple production is sold direct to consumers on the farm. By developing unique products, the Chudleighs have expanded markets beyond the farm to local, national and international status, supplying 'Apple Blossoms' (single apples wrapped in pastry) to the USA and Japan as well as pies and bagged apple cider to supermarket chains. The branded products, designed to cater to the visiting customer families, made their debut in the farm kitchen and with detailed attention to food safety standards found ready acceptance by local consumers before being commercialized to broader markets.
Tom's promotion of educational tours for school children, college & university students, tourist and seniors groups led logically into provision of birthday and anniversary parties and corporate picnics as additional revenue streams for the farm. Tom willingly shared his knowledge and introduced improved technology to other producers. Above all, he has awakened interest in alternative marketing methods to improve returns and move the industry to greater heights of service to customers.
Tom Chudleigh has contributed leadership to the fruit industry through the following organizations: the International Dwarf Fruit Tree Association, Clarkson-Dixie Fruit Growers Association, Ontario Fruit Tree Co, Ontario Apple Marketing Commission, Halton-Wentworth Fruit & Vegetable Growers Association, Royal Bank Advisory Committee for Agriculture and the Ontario Farm Fresh Marketing Association. He received the Milton Chamber of Commerce Business of the Year Award in 1981.