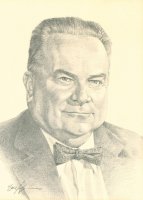 Thomas E. Hays
(1913 - 1983)
Inducted in 1985
Origin: Halton County
Nominated by: Halton Holstein Club
Specialty: Livestock - Dairy, Organizations
---
Thomas E. Hays, with his brother Harry, founded Hays Farms, which gained a worldwide reputation as dealers and exporters of quality livestock. His energy, salesmanship and willingness to take risks in using novel methods opened and developed markets for Canadian purebred livestock in over twenty countries.
He was the first to ship purebred stock to Great Britain, reversing a trend of the past century. Tom Hays was also the first to ship cattle by air when, in 1946, he organized a shipment of eight bulls to Cuba.
He actively promoted Holstein cattle throughout the world and sponsored several Ontario exhibits to the International Dairy Show in Chicago. Tom's sale management skills were evident in the number of large herd dispersals which he conducted. In addition, his annual "Sale of Stars" at major shows drew buyers from around the world and returned millions of dollars to Canadian livestock breeders.
An internationally acclaimed judge of livestock, he was also a noted trainer and racer of standardbred and thoroughbred horses, and a lover of fine flowers.
Tom Hays' farm near Oakville in Halton County was frequently used by 4-H and many other farm groups and his generosity in support of stock shows and farm organizations was well known throughout Canada.