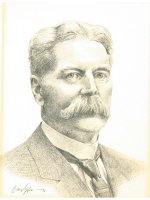 Thomas E. Robson
(1851 - 1940)
Inducted in 1996
Origin: Middlesex County
Nominated by: Thomas Edwin Robson
Specialty: Livestock - Sheep, Livestock - Dairy, Livestock - Horses
---
Captain Tom Robson was a legendary figure in Canadian Shorthorn history. Lauded as "farmer, shorthorn breeder, showman, judge, auctioneer and vocalist of mean order", he played a pivotal role in the development of the Shorthorn breed of cattle and his community.
George Robson immigrated to Canada from Cumberland, England in 1820 and settled in London Township in the County of Middlesex. In an effort to improve local cattle lines, George imported Shorthorn cattle from England and his son Thomas built upon his father's tradition. Their farm near Ilderton was known for raising top quality Lincoln sheep, Clydesdale horses and Shorthorn cattle. Tom's judicious selection of cattle and his ability to "fit" animals for the show ring enabled Tom Robson's Spring Grove Shorthorns to enjoy unparalleled success. Beginning in 1896, Robson's Middlesex Shorthorns dominated the Toronto Exhibition for many years. Graced with an extraordinary "judge's eye" Tom was also widely sought after as a cattle judge and auctioneer in Ontario and the United States.
A man of many interests, Tom Robson joined the militia early and rose to the rank of Captain of No. 8 Company, 26th Middlesex Battalion in 1882. His successful political career began with his election to the London Township Council in 1883 and he became Warden in 1891. He then served first as County Clerk, then County Treasurer with the two positions interrupted by one term as a Conservative M.P.P. Terms as a director of the Ilderton Fair, member of the Western Fair Board, Director and President of the Dominion Shorthorn Breeders' Association reflected his commitment to the agricultural and rural community. Locally, he was active with the London Mutual Fire Insurance Company, the Masons, and St. George's Anglican Church. He and his wife were also esteemed as vocalists and musicians, and Tom was renowned for his storytelling ability.
Personally and professionally, Captain Tom Robson made an extraordinary contribution to Ontario agriculture.