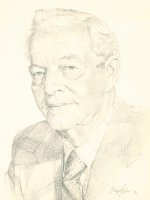 Thomas Edgar Brady
(1918 - 1985)
Inducted in 1992
Origin: Lanark County
Nominated by: Gay Lea Foods Co-operative Ltd.
Specialty: Co-operatives
---
Ed Brady was a native of Perth, Lanark County. He had a lifelong belief that cooperative techniques could do more than improve standards of living. They could foster learning, personal development and bridge the gap of understanding between urban and rural Ontario. Active in the resurgence of the cooperative movement in Eastern Ontario during the 1930's. He held positions with the United Farmers and Perth District Co-ops before joining United Co-operatives of Ontario in Toronto in 1955.
In 1958, Mr. Brady joined what is now Gay Lea Foods Co-operative limited where his expertise in the industry lead him to the position of General Manager and later, Chief Executive Officer. To his distinguished career must be added Ed Brady's work on the executives of the National Dairy Council, the Dairy and Poultry Branch of the Toronto Board of Trade, the Canadian Produce Council and the Dairy Food Service Bureau.
Promoting excellence in production and leadership in the agricultural community, Ed Brady was active in the Rural Learning Association, the Co-operative Unions of Ontario and Canada, and the Ontario Federation of Agriculture. Through his commitment to the industry, Ed Brady helped Ontario agriculture gain international significance.