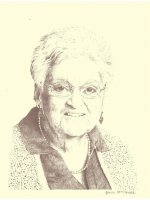 Vera Mitchell
Year of birth: 1929
Inducted in 2010
Origin: Ottawa-Carleton Region
Nominated by: Garnet Ralph and William Tupper
Specialty: Livestock - Dairy, Organizations
---
Vera Mitchell has amassed impressive accomplishments in agriculture, both as a key owner/operator of Donevelyn Farms Ltd. since 1952, and as a result of her work on behalf of agriculture across the province.
In the last fifty years, Donevelyn Farms has grown to comprise 1000 acres and four separate enterprises – dairy, a grain elevator, cash crops and custom cropping services. Vera was active in the dairy, accounting and grain trading aspects of the business.
With this extensive agricultural expertise, Mrs. Mitchell became a well-known spokesperson for agriculture across Ontario. She was often referred to the press by the Ontario Milk Marketing Board as a resource person with considerable knowledge of the dairy industry and Ontario agriculture in general. She defended farm practices and marketing organizations in the press, and emphasized that farmers were excellent custodians of the land. She carried this educational component of her agricultural contributions even further by serving on the Advisory Board of Kemptville College, as well as hosting many national and international bus tours at Donevelyn. In addition, she worked closely with the Ontario Ministry of Agriculture, Food and Rural Affairs to deliver the Ontario Agricultural Training Institute's Farm Management Training Program throughout Eastern Ontario.
In 1986, Vera Mitchell was appointed by the Federal Minister of Agriculture as a founding Director on the Ontario Farm Debt Review Board. Its purpose was to facilitate mediation between financially stressed producers and their financial institutions in order to find workable solutions. The cases involved all sectors of agriculture and Vera served on panels across Ontario. She was renowned for her ability to get to the heart of a problem, and she brought considerable business experience in farm business expansion and diversification to the table.
Vera Mitchell has been an active farmer for much of her life, and has worked tirelessly on behalf of agriculture in her own region and across the province. In 2002, she was awarded the Queen Elizabeth II Jubilee Medal for Outstanding Citizenship, Business Leadership and Contributions to Agriculture.
The Ontario Agricultural Hall of Fame is proud to welcome Vera Mitchell to join an impressive list of contributors to Ontario Agriculture.